nVision Features
Integrated Texas Instruments DM642 720 MHz DSP
RGB/YPrPb, S-Video, or Composite video streaming and capture
High-quality 10-bit video digitizing
TI DM642 Digital Media Processor
Full-resolution viewing and capture in square pixel or ITU.BT.601 formats
Supports NTSC and PAL video formats
Video scaling to arbitrarily sized windows
Fully scalable JPEG compression
Simultaneous transfer of compressed and uncompressed video
64 MB SDRAM Frame Buffer for reliable image transfer
On-board FLASH memory for calibration settings configuration, or web interface
Composite video output
General purpose I/O triggers
Dual UART serial communications
Optional nVision I/O carrier board for easy access to all video, communications, and trigger I/O
nVision API supports Texas Instruments Code Composer Studio for embedded application development.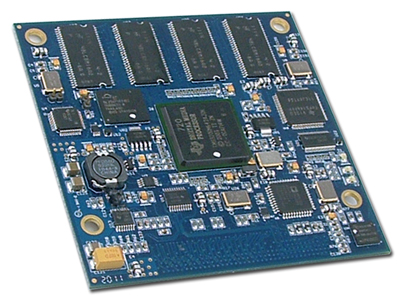 nVision Description
Networked Convenience
nVision is a fully integrated device for remote video streaming over Ethernet. Its compact size allows it to be installed anywhere a network connection exists, whether a laptop or server.
Digital Video Processor
nVision is equipped with a powerful Texas Instruments DM642 Video Processor, making it perfect for video analytics applications. Image processing functions such as image enhancement, stabilization, advanced motion detection, noise filtering, frame de-interlacing, image rotation, video overlay, or license plate recognition can be accomplished.
High-Quality Video Capture
nVision accepts RGB or YPrPb component, S-Video, or Composite video inputs from NTSC or PAL video sources. nVision's 10-bit video digitization assures the highest-quality image possible. Video streaming is fully configurable. Transfer can be in uncompressed, motion JPEG, or in programmable dual streaming mode. Video can be digitized up to 720x480 and scaled to any arbitrary size.
Video Output
For analog video monitors, nVision can decode networked digital video streams and convert the digital video for output on it's video output port. A programmable overlay can be applied to the output video for on-screen display.
Extensive Control
nVision contains extensive camera and I/O control to make application development simple. By utilizing an integrated microcontroller and 64 MB frame buffer, nVision provides reliable image transfer to prevent dropped images. nVision also supplies a dual UART serial interface to control cameras and six programmable general-purpose I/O triggers for event notification. nVision is also available with up to 32 MB of flash memory for boot load options, presets, or integrated web interface.
nVision API and Developers Kit
The nVision API is a comprehensive board support package that comes complete with drivers and samples and is compatible with TI's Code Composer Studio. For ease in application development, the nVision Developer's Kit also supplies an nVision I/O Carrier board (pictured below) and power supply. The nVision I/O Carrier board provides for standard connections for video, communications, and trigger I/O.

Specifications
Network
Ethernet 10/100Base-T
Video Input and Digitization
RGB/YPrPb, S-Video, and Composite video
inputs
High-quality 10-bit digitization
NTSC (J, M, 4.43), PAL (B, D, G, H, I, M, N, Nc,
60), and SECAM (B, D, G, K, K1, L) support
Color or monochrome camera support
Square pixel and ITU.BT.601 resolution support
Software programmable control of gain, offset,
hue, saturation, and sharpness
64 MB Flash memory for storing configuration
and calibration settings
Video Acquisition
Real-time, full-resolution video acquisition channel
Fully scalable JPEG compression
Simultaneous viewing and transfer of compressed
or uncompressed video
Fully independent configuration of frame rate, resolution, and compression parameters
64 MB SDRAM frame buffer for reliable transfer
Smooth video scaling to randomly-sized windows
Hardware overlay of graphics over video
RGB 32/24/16/15/8 and YUV 4:2:2 pixel formats
Video Output
Composite video output with OSD
NTSC or PAL format
I/O Control
General-purpose I/O triggers
Triggers programmable as input or output
Dual UART serial interface
Physical and Environmental
3.432" (length) x 3.432" (width)
YFS 200-pin connector
Optional nVision I/O Carrier board - 4 BNC, 2 x DB-9 male, RJ-45 Ethernet socket, and 2.5 mm
power plug
Operating temperature: 0° C to 70° C
Relative humidity: 5% up to 95% non-condensing
Ordering Information
nVision: 10503-001
nVision (Square Pixel Output):10503-002
nVision I/O Carrier Board: 99503
nVision Developers Kit: 90012
dVeloper Foundation SDK for nVision: 90011
Ruggedized Chassis
nVision Chassis is a ruggedized metal enclosure specifically designed for the nVision. Features include...
Integrated heat-sink
HD-25 connector for I/O
Allows for complete development and deployment
Contact dPict Imaging for more information.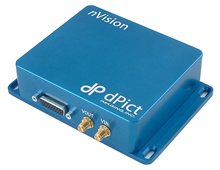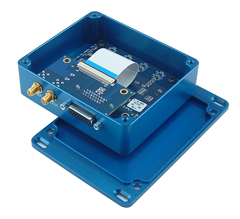 TI Third Party Network
dPict Imaging is a proud member of the TI Third Party Network. By working closely with TI we keep up on the latest hardware and software developments, allowing us to provide the best development support possible.